The Essential Guide to Financial Planning – Process, Benefits & Needs
Blog

|

Other Laws

|

7

Min Read
By

Taxmann

|

Last Updated on

25 September, 2023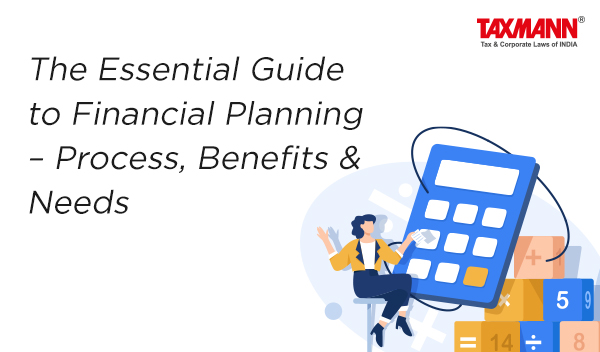 Table of Contents
Check out Taxmann's Finance For Everyone | UGCF which aims to enhance financial literacy and independence by comprehensively covering essential finance topics such as budgeting, banking, and insurance. Crafted with simplicity and systematic approaches, it incorporates real-life examples, interactive activities, and end-of-chapter questions to foster a practical understanding of the financial world. Leveraging the authors' extensive teaching experience and feedback from student interactions, it offers a rich resource for grasping financial concepts through engaging and insightful content designed for effective learning and real-world application.
1. Introduction
We can all agree that the ultimate goal of financial literacy is to attain the required skills to prepare a sound financial plan. We all have various goals which we want to achieve in life like funds for higher education, owning house property, owning a vehicle, children's marriage, retirement, etc. Without proper financial skills and knowledge, it is next to impossible to achieve all these goals. So, in this, we will understand the concept of financial planning and its need.
2. Financial Planning
Financial planning means developing a personal roadmap for your financial well-being. The outcome of the whole planning process is a path which needs to be followed to attain all the financial goals in the light of external hindrances like inflation, taxes, etc. It means systematically planning your finances in order to achieve your financial goals within the defined timeline.
3. Financial Planning Process
The financial planning process involves several steps that an individual can follow to achieve their financial goals.
STEP 1: Define your financial goals
The first step in the financial planning process is to define your financial goals. Financial goals are the targets one intends to achieve through money management. Setting financial goals can help in attaining financial discipline. They assist in encouraging savings and making conscious investment decisions.
Some of the popular financial goals are given below:
Make a budget and live by it
Pay off credit card debt
Save an emergency fund
Save for retirement
Live below your means
Develop skills to improve your income
Save for your children's education
Save a down payment for a home
Improve your credit score
When you analyse your goals, you will discover that some might take you some time to reach, while others do not so much. Thus, based on the time span, the financial goals are classified into 3 categories:
Short-term Goals: Short-term goals are financial goals with a narrow scope and limited time horizon. It includes purchasing household electronics, furniture, house renovation, vacation spending etc. Moreover, the more important short-term goal is getting a grip on your spending, starting to practice budgeting, avoiding short-term debt defaults, setting a minimum limit of regular savings and starting building your emergency fund as soon as possible.
Midterm Goals: The tendency to weight financial plans around the near- and long-term goals has been called the "barbell" approach. However, due considerations need to be given to midterm goals which take between 3 to 10 years to fulfil. Some examples of medium-term goals are a down payment on a house, paying off a study loan, international vacation, starting a business, etc.
Long-term Goals: Your long-term goals are directed towards being done with your responsibilities and lining a comfortable and stress-free life. Thus, some popular long-term goals are children's education, children's marriage and comfortable retirement. These goals are realised between 20 to 40 years. These goals require disciplined investing because they cannot be compromised.
Attributes of Sound Financial Goals: SMART
S stands for Specific
What do you want to achieve? One should start by answering this question. The goals should be clearly outlined and how they can be achieved must be clearly stated. This also helps in keeping oneself motivated to stay on the right track.
Ambiguity about one's goals can lead to confusion and chaos and delays in achieving them.
For example, if you aim to save for higher education of children you must answer the following questions.
How much do I need for this goal?
How long do I have to collect the funds for this goal?
How am I going to collect funds for this goal?
M stands for Measurable
The essence of this attribute can be phrased as "if you can see it, you can do it". By measurable, we mean that one should be able to gauge his/her progress during the courses of fulfilment. This will help in keeping track of the current efforts and if any revisions are required in the efforts in the future. One can do so by putting small yearly milestones in the overall long-term goal to keep oneself in check.
For example, one can use a retirement calculator available online to gauge the process and see how much more is required to attain the goal.
A stand for Achievable
Wishful thinking can result in disappointment and mental distress. Financial goals are indeed challenging, but they should not be impossible to attain. One should be realistic about one's goals and should perform thorough research regarding their attainability.
For example, currently, you are 28 with an annual income of Rs. 750000. You aim to retire at the age of 60 with a retirement corpus of Rs. 30000000. You have to ask yourself in light of current finances will you be able to achieve it or is it just wishful thinking?
R stands for Relevant
By relevance, we mean that your goals should not be arbitrary. They should be personal to you and must hold some significance to you. The path to achieving financial goals can be very tough and daunting and if you set a goal which does not hold any significance to you, the journey will feel like a burden and you will not enjoy it.
For example, when planning your retirement as yourself:
Will my family expenses in the future affect my goal?
Are there any activities or hobbies of mine which can deter me from attaining this goal?
How badly do I need to achieve it in the required time period? Can it be compromised or delayed?
T stands for Timely/Time-Bound
There are a few popular phrases like "You have all the time in the world" or "Life is too long to fret about things". They sound pretty nice and carefree. Right? But, being carefree can cost you your future. The timeliness of the financial goals ensures that you are serious about your goals and can set priorities. Thus, putting a time stamp on your goals is important. It also gives you a realistic deadline which can help guide the quantum of your efforts to achieve them. This can be done by giving oneself regular timely deadlines.
STEP 2: Assess your current financial situation
The next step is to assess your current financial situation. This involves reviewing your income, expenses, assets, and liabilities. By understanding your current financial situation, you can identify areas where you may need to make changes in order to reach your financial goals.
STEP 3: Create a budget
Once you have a clear understanding of your financial situation, you can create a budget. A budget is a plan that outlines how you will allocate your income and expenses in order to meet your financial goals. It is important to track your spending and stick to your budget to achieve your financial goals.
STEP 4: Develop a financial plan
After you have defined your financial goals and assessed your current financial situation, you can develop a financial plan. A financial plan is a roadmap that outlines the steps you need to take to achieve your financial goals. It should include a timeline for achieving each goal, as well as a strategy for how you will achieve them.
STEP 5: Implement your financial plan
Once you have developed a financial plan, it is important to implement it. This may involve making changes to your spending habits, investing your savings, or making other financial decisions to help you reach your goals.
STEP 6: Monitor and review your progress
It is important to regularly review and monitor your financial plan to ensure that you are on the right track to attain your financial goals. This may involve reviewing your budget, adjusting your financial plan as needed, and making any necessary changes to your financial strategy.
By following these steps, you can create a solid financial plan that will help you achieve all your crucial financial goals. It is important to be proactive and disciplined in managing your finances, as this will help you achieve financial stability and security in the long term.
As rightly said by Annamaria Lusardi, a George Washington University professor who also is one of the world's foremost experts on debt management
"The bottom line is everyone can do more and everyone should do more to plan for their financial future,'' and "Make a plan, then follow that plan.''
4. Practical Benefits to Financial Planning
Financial planning helps you to:
Increase your saving: It is not impossible to save money without a financial plan will it be efficient that is something to be thought about. When you make a financial plan you become aware of your income and expenses which will help you in keeping track of them and assist in practising cost consciousness, which will automatically help you in increasing your savings in the long run.
Enjoy a better standard of living: It is assumed that high monthly bills and EMI repayments hinder your living standards. It is not true. A well-developed financial plan will help you to honour your obligations on time, meet all your expenses and still enjoy a comfortable and stress-free life.
Be prepared for emergencies: The creation of an emergency/contingency fund is a must. It is the first step towards a stress and anxiety-free life. Unexpected financial distress can affect your mental health, which in turn affects your performance, which ultimately results in a loss of income stream. Thus, it is advised to maintain a fund equivalent to 6 months of your expenses.
Attain peace of mind: A person practising financial planning is able to manage his/her finances properly and have a peaceful mind. Sometimes you might hit rock bottom, but you should not be discouraged because ultimately you will reach your goal if you stay disciplined in the path of your goals. It might take you some time, but you will reach the stage of financial peace.
5. Need for Financial Planning
The financial plan serves as a guide as you go through life's journey. It helps you to manage your income, expenses, and investments in such a way that you can manage your finances and achieve your goals. You need to have enough money to achieve your goals and desires.
Personal finances can help us increase our cash flow. Keeping track of our expenses and usage patterns enables us to increase our revenue. Careful planning, careful spending, and careful planning ensure that we do not lose the money we have worked hard for.
A well-defined plan ensures that you do not deviate from them. It reduces the mental stress and anxiety related to financial well-being. If the goals are well defined in the planning process, one can customize the strategies in order to attain them.
We all agree that everyone thrives when appreciated for one achievement. As you attain your goals in your life, it will give you a sense of achievement which will further act as a motivator to stay motivated for future goals.
Personal finances include concepts related to money management, savings and investment. It includes banking, budgeting, debt, investment, insurance, retirement planning, and tax planning.
Disclaimer: The content/information published on the website is only for general information of the user and shall not be construed as legal advice. While the Taxmann has exercised reasonable efforts to ensure the veracity of information/content published, Taxmann shall be under no liability in any manner whatsoever for incorrect information, if any.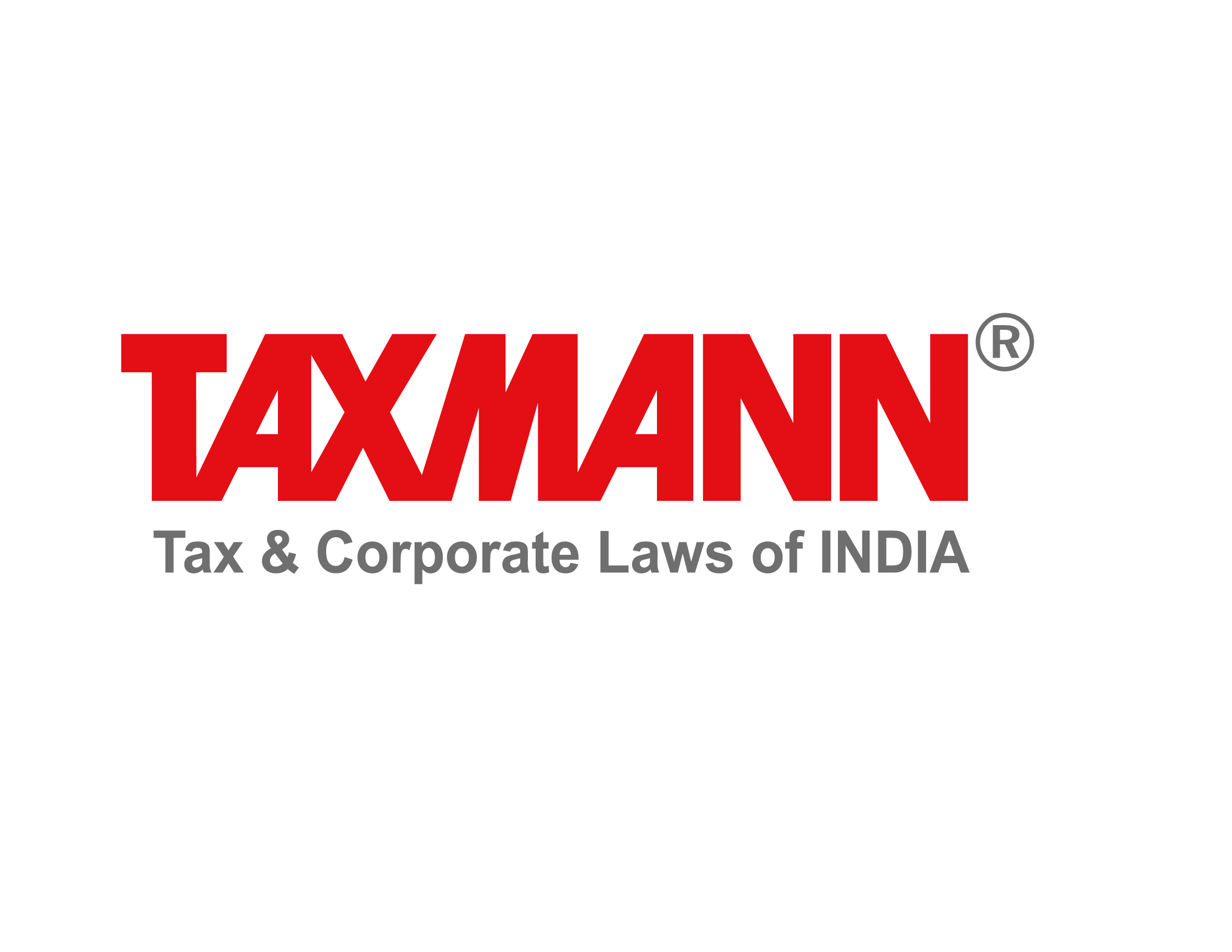 Taxmann Publications has a dedicated in-house Research & Editorial Team. This team consists of a team of Chartered Accountants, Company Secretaries, and Lawyers. This team works under the guidance and supervision of editor-in-chief Mr Rakesh Bhargava.
The Research and Editorial Team is responsible for developing reliable and accurate content for the readers. The team follows the six-sigma approach to achieve the benchmark of zero error in its publications and research platforms. The team ensures that the following publication guidelines are thoroughly followed while developing the content:
The statutory material is obtained only from the authorized and reliable sources
All the latest developments in the judicial and legislative fields are covered
Prepare the analytical write-ups on current, controversial, and important issues to help the readers to understand the concept and its implications
Every content published by Taxmann is complete, accurate and lucid
All evidence-based statements are supported with proper reference to Section, Circular No., Notification No. or citations
The golden rules of grammar, style and consistency are thoroughly followed
Font and size that's easy to read and remain consistent across all imprint and digital publications are applied
Everything on Tax and Corporate Laws of India
To subscribe to our weekly newsletter please log in/register on Taxmann.com