[Opinion] Comparative analysis of private placement, preferential offer & rights issues under Companies Act
Blog

|

Company Law

|

News

|

111 Views

|

2

Min Read
By

Taxmann

|

Last Updated on

27 January, 2023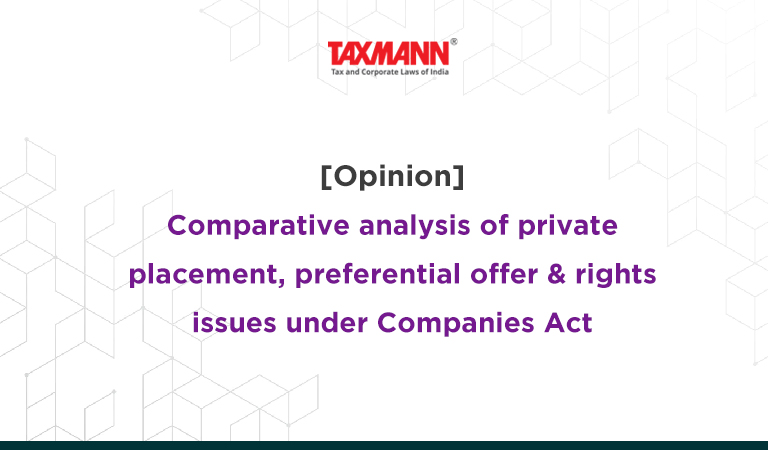 [2023] 146 taxmann.com 426 (Article)
The concept of 'offer and issue of shares or securities' by a company is important from the perspective of raising funds, capital re-organisation, change in control of the company, strategic investments in the company, etc. Depending upon the type of issue (public offer, rights offer, preferential offer, etc.), the nature of compliances, timelines, disclosures, valuation requirement, reporting to the Ministry of Corporate Affairs changes. In certain cases, the disclosure or compliances or reporting requirements also depends upon the type of company (i.e. private company or public company).
Taking into account the section 23 of the Companies Act, 2013 ('the Act'), a public company may issue securities to public through prospectus i.e. public offer or through private placement or through rights issue or bonus issue. A private company may issue securities by way of rights issue or bonus issue or through private placement. Chapter III of the Companies Act, 2013 ('the Act') relates to 'Prospectus and Allotment of Securities'. The Part I of the said Chapter relates to 'Public Offer' and Part II relates to 'Private Placement'.
In this article, the author discusses some practical and important points of comparison w.r.t. issue of shares on private placement basis (under section 42 of the Companies Act) and rights issue (under section 62 of the Companies Act) and the Rules made there under: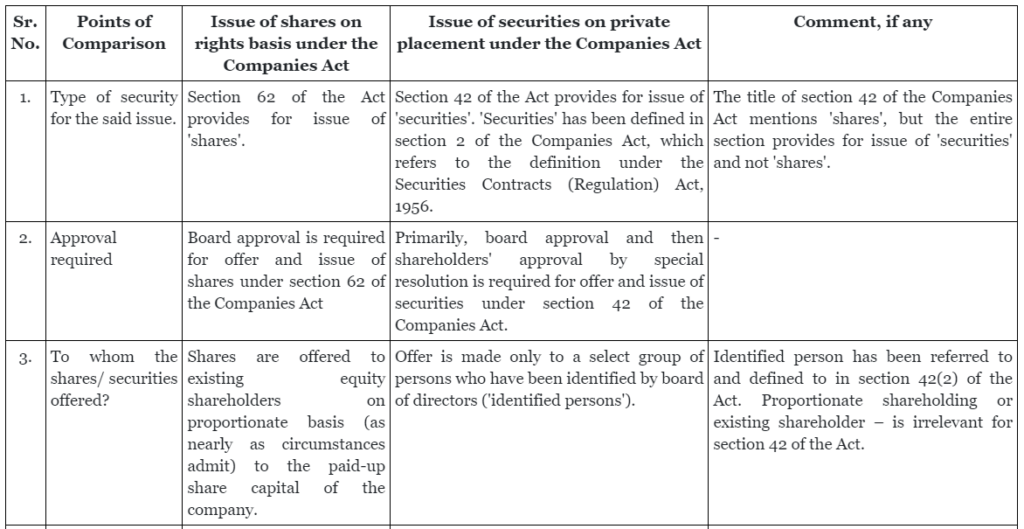 Meaning of the expression – 'select group of persons': In Canning Industries Cochin Ltd. v. SEBI [2020] 115 taxmann.com 379 (SAT – Mumbai), the issue before SAT was – Whether offer of an unlisted public company (with 1,929 shareholders) of Unsecured Fully Convertible Debentures on rights basis (and without right of renunciation) amounts to 'public issue' of securities under Companies Act and SEBI Act. In this, there was reference and discussion on private placement of securities under section 42 of the Companies Act. SAT observed that
"The offer of shares to the Company's shareholders cannot be termed as an offer to a 'select group of persons'. The expression 'select group of persons' is not a technical expression but has to be understood in its ordinary popular sense, namely, an offer made privately such as to friends and relatives or a selected set of customers distinguished from approaching the general public or to a section of the public by advertisement, circular or prospectus addressed to the public."
Click Here To Read The Full Article
Disclaimer: The content/information published on the website is only for general information of the user and shall not be construed as legal advice. While the Taxmann has exercised reasonable efforts to ensure the veracity of information/content published, Taxmann shall be under no liability in any manner whatsoever for incorrect information, if any.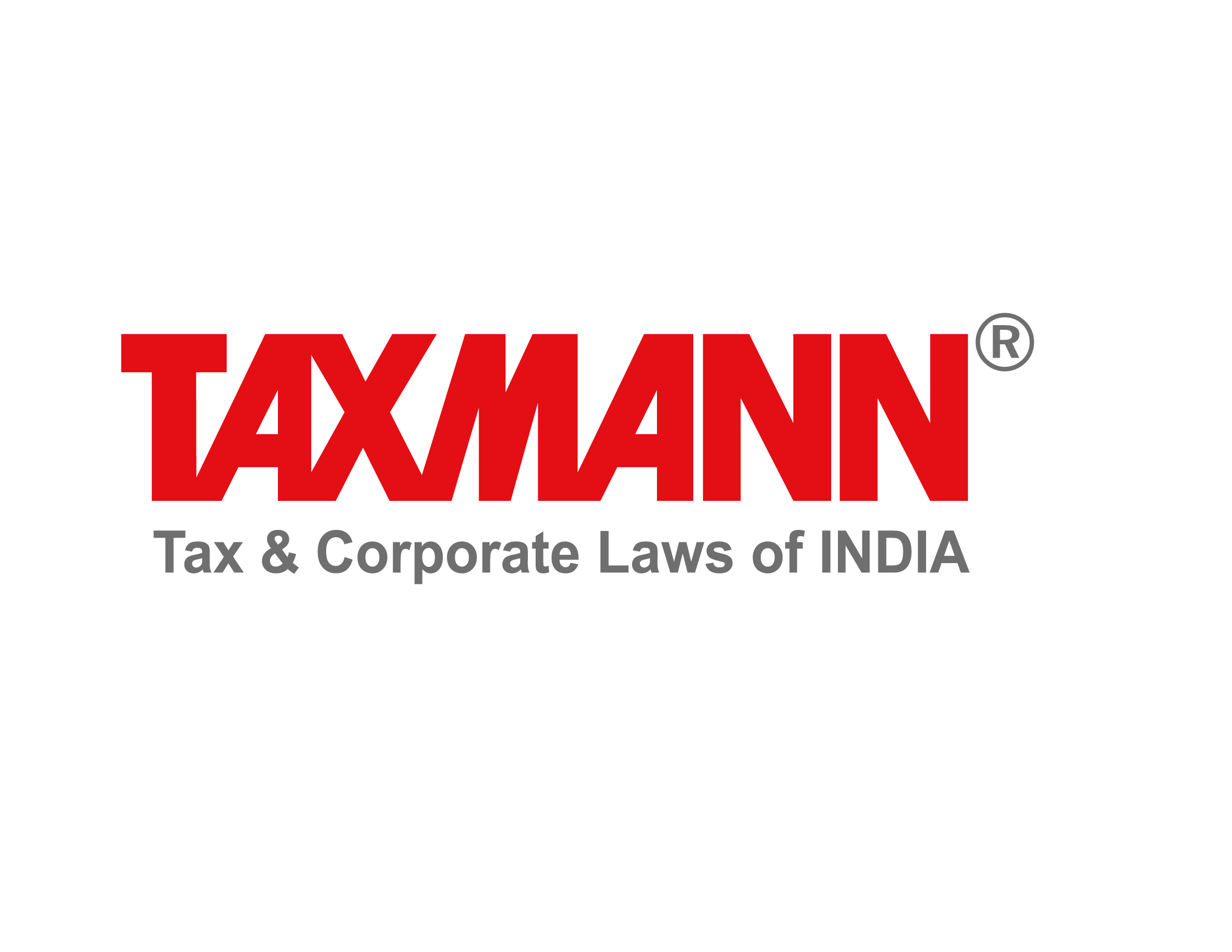 Taxmann Publications has a dedicated in-house Research & Editorial Team. This team consists of a team of Chartered Accountants, Company Secretaries, and Lawyers. This team works under the guidance and supervision of editor-in-chief Mr Rakesh Bhargava.
The Research and Editorial Team is responsible for developing reliable and accurate content for the readers. The team follows the six-sigma approach to achieve the benchmark of zero error in its publications and research platforms. The team ensures that the following publication guidelines are thoroughly followed while developing the content:
The statutory material is obtained only from the authorized and reliable sources
All the latest developments in the judicial and legislative fields are covered
Prepare the analytical write-ups on current, controversial, and important issues to help the readers to understand the concept and its implications
Every content published by Taxmann is complete, accurate and lucid
All evidence-based statements are supported with proper reference to Section, Circular No., Notification No. or citations
The golden rules of grammar, style and consistency are thoroughly followed
Font and size that's easy to read and remain consistent across all imprint and digital publications are applied
Everything on Tax and Corporate Laws of India
To subscribe to our weekly newsletter please log in/register on Taxmann.com