Call for Papers | Changing Paradigm of Corporate and Commercial Laws
Blog

|

Other Laws

|

554 Views

|

3

Min Read
By

Taxmann

|

Last Updated on

8 April, 2021
CALL FOR PAPERS
Jagran Lakecity University | Faculty of Law
On
Changing Paradigm of Corporate and Commercial Laws
Faculty of Law, Jagran Lakecity University, Bhopal, in collaboration with Taxmann Centre for Excellence in Taxation Laws (CETL), under the auspices of Centre for Competition and Investment Laws and Policy (CCILP) is organizing a two-day Virtual National Conference on "Changing Paradigm of Corporate and Commercial Laws" on 19th and 20th June, 2021.
The conference aims to discuss the upsurge of issues and changes that the corporate sector in India has suffered in the light of COVID -19. Under the impact, stakeholders have been highly mindful considering the unpredictable nature of trends in investments, commercial transactions and agreements and compliances; hence to address and discuss the issues thus faced by Indian economy JLU is calling for papers in this national-level conference. The conference is open to students of law, commerce and management, research scholars, academicians, corporate professionals, tax practitioners, lawyers and other stakeholders of the society.
SUBMISSION GUIDELINES
Papers may cover the broad themes of corporate and commercial laws such as the following (not limited to these themes only, author(s) may choose to write on any relevant theme within the ambit of corporate and commercial laws):

Corporate Restructuring and Governance
Commercial Agreements during COVID-19 Pandemic
Force Majeure and Issues relating to Contractual Obligations
Emerging Issues relating to Negotiable Instruments
Trends in Mergers and Acquisitions
Insolvency and Bankruptcy Processes
Issues relating to Direct Tax Moratorium
Challenges in Good and Service Tax Regime
Role of Regulatory Authorities
Corporate Dispute Resolution Mechanisms
Competition Disputes and Unfair Competition
Cartels and Monopolistic Practices
Competition Commission of India and its Functions
Abuse of Dominant Position
Investment and Securities Issues
Foreign Institutional Investments and related Issues
SEBI and Regulation of Securities Market

The word limit for papers shall be 3000 – 5000 words (exclusive of footnotes) in .docx format.
Co-authorship up to one co-author is allowed. (a total of two co-authors)
Plagiarised papers shall be summarily rejected.
Papers shall be accompanied by an Abstract of not more than 300 words.
For referencing, author(s) are required to follow the Bluebook: A Uniform System of Citation (20th Edition).
All submissions shall be made to ankit.singh@jlu.edu.in.
Selected papers shall be published in an edited book with ISBN published by Taxmann Publications.
IMPORTANT DEADLINES
Submission of Abstract: 05 May, 2021
Intimation of Abstract Acceptance: 10 May, 2021
Submission of Full Paper: 05 June, 2021
Date of Conference: 19-20 June, 2021
REGISTRATION FEE (to be paid after acceptance of Abstract)
For Students: INR 300
For Research Scholars: INR 500
For Academicians and Professionals: INR 750
CONFERENCE SECRATARIAT
Dr. Sandeep Shastri
Vice Chancellor, JLU
Prof. (Dr.) Yogendra Kumar Srivastava
Dean – Faculty of Law
Dr. Ankit Singh
Assistant Professor
E-Mail: ankit.singh@jlu.edu.in
Mobile: 8827638448
Mr. Rohit Mishra
Assistant Professor
E-Mail: rohit.mishra@jlu.edu.in
Mobile: 8103238755
Ms. Aisha Khan
Assistant Professor
E-Mail: aisha.khan@jlu.edu.in
Mobile: 9818831611
NOTE: In case of any queries, feel free to contact the Convener or the Co-conveners.
ABOUT JAGRAN LAKECITY UNIVERSITY
Jagran Lakecity University is a reputed institution with multiple accolades, namely 'University of the Year' by FMPCCI and Global League Institution 2015-16 by The Great Place to Study Research Institute to its credit.
ABOUT FACULTY OF LAW | JLU
The Faculty of Law for JLU, holding up with the prestige and vision of the institution has been enthusiastically working towards providing their students a free, creative space to bring out the best in them , while also imparting excellent skills and legal ethics to help them outperform the competition. Keeping up with the tradition, The Faculty of Law, JLU has been recognised as the best emerging law school of the country in the past by various renowned knowledge magazines and web portals.
ABOUT CENTRE FOR COMPETITION AND INVESTMENT LAWS AND POLICY
Centre for Competition and Investment Laws and Policy (CCILP) is a centralized platform for discussions and deliberations on subjects concerning competition and investment laws and policies, where functioning of the Competition Commission of India, contemporary challenges in front of fair competition, trade and cross-national competitive regimes can be critically analysed.
ABOUT CENTRE FOR EXCELLENCE IN TAXATION LAWS
Centre for Excellence in Taxation (CETL) is a patronee/protégé/beneficiary under the JLU and Taxmann association. CETL provides a platform for students, academicians, lawyers, professionals and other stakeholders through various ways such as workshops, seminars, symposia, colloquia, conferences, to deliberate, scrutinize and discuss an array of aspects concerning taxation law and procedure in India.

Disclaimer: The content/information published on the website is only for general information of the user and shall not be construed as legal advice. While the Taxmann has exercised reasonable efforts to ensure the veracity of information/content published, Taxmann shall be under no liability in any manner whatsoever for incorrect information, if any.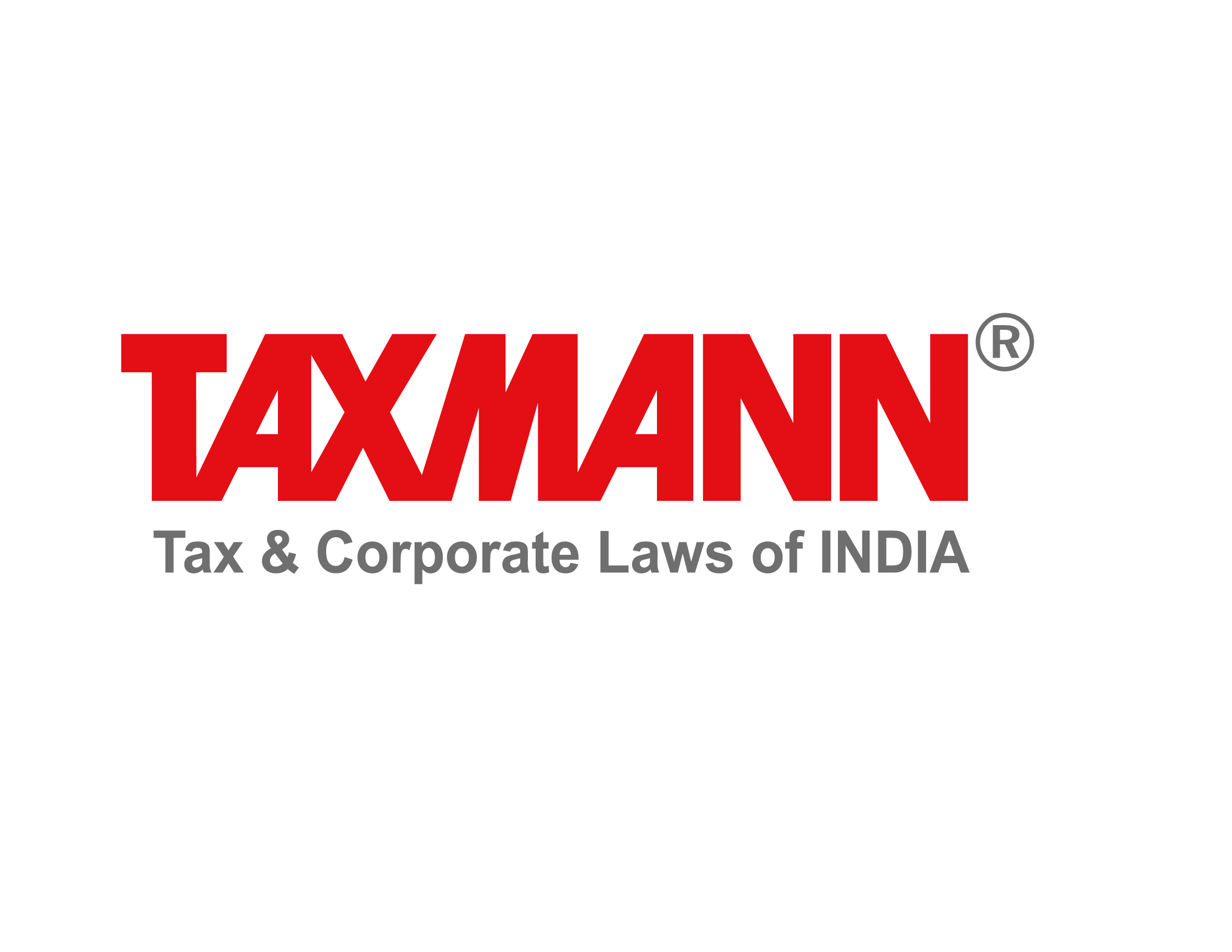 Taxmann Publications has a dedicated in-house Research & Editorial Team. This team consists of a team of Chartered Accountants, Company Secretaries, and Lawyers. This team works under the guidance and supervision of editor-in-chief Mr Rakesh Bhargava.
The Research and Editorial Team is responsible for developing reliable and accurate content for the readers. The team follows the six-sigma approach to achieve the benchmark of zero error in its publications and research platforms. The team ensures that the following publication guidelines are thoroughly followed while developing the content:
The statutory material is obtained only from the authorized and reliable sources
All the latest developments in the judicial and legislative fields are covered
Prepare the analytical write-ups on current, controversial, and important issues to help the readers to understand the concept and its implications
Every content published by Taxmann is complete, accurate and lucid
All evidence-based statements are supported with proper reference to Section, Circular No., Notification No. or citations
The golden rules of grammar, style and consistency are thoroughly followed
Font and size that's easy to read and remain consistent across all imprint and digital publications are applied
Everything on Tax and Corporate Laws of India
To subscribe to our weekly newsletter please log in/register on Taxmann.com